Gardalake
Dog rules on public beach
Dogs can be taken to the beach and swim in the lake before 9 a.m. and after 7 p.m.; however, it is always possible to take walk them on the lakeside promenade in compliance with the hygienic rules.
The public dedicated Dog Beach is always open and you can reach it in 10 minutes walking on the beach .
In addition near the public dog beach, there is also a private dog beach (Fido Beach) with lots of dog services.

Dog rules for our houses
Dogs are welcome but, for the sake of all our guests, please abide by the following rules:
1) Garden: your dog can move freely in the fenced-in garden, but we ask you to take your dog outside the chalet's garden for its inevitable needs (also pee if possibile).
2) Noise: Please don't leave your dog alone for extended periods, as they are likely to tell everyone, very loudly, how much they miss you.
3) Dog hair care: You may brush your dog on your terrace or on the grass, but we ask you to please to remove the hair afterwards.
4) Food: Please don't use any of the pots or pans from your accommodation which are provided for humans.
5) Where does your dog sleep? The beds and sofa-beds are no place for your dog to sleep
6) Lake Promedade: your dog must be kept on a leash and you are asked to have dog plastic bags with you.
7) Just a few meters from our houses, there are beautiful woods and meadows, where your dog can roam freely
8) You can reach Fido Dog Beach walking just 10 minutes along the beach.
Fido Dog Beach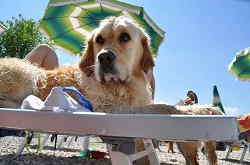 Fido Beach is located at Rolly - Punta del Rio in Manerba del Garda and you can reach it by foot in just ten minutes walking on the beach.
The beach offers a convenient space and is well equipped, so you can spend pleasant hours with your dog with various activities, e.g. play with it or train your dog.
Highly qualified staff is available with whom you could book training lessons for your dog.

The Fido Dog Beach is equipped to accommodate and welcome on the beach both you and your four-legged friends. There are no limits to size or breed, all are welcome guests.
At Fido Dog Beach you can rent sun umbrellas and sun loungers while insulating mats for dogs are provided free of charge.
There are always several dog amenities available, such as dishes for water, shaded areas, [crevices – s.o.], and even bags for picking up dog "left overs".
If you so wish, you can educate your dog for a first approach to water and swimming.